General Dentistry
Prevention is the Best Medicine
At Veranda Dentistry, just like any good dentist or healthcare practitioner, we believe prevention is the best medicine. We would rather see you twice yearly for your regular cleanings and exams, than not see you for years and have to treat advanced gum disease or do complex restorative work – we think you probably agree. We do understand why many people avoid going to the dentist. That's why we do everything we can to make your visits convenient and comfortable. We also offer sedation to help patients with dental anxiety get the care they need.
Get the Quality Dental Care
You Deserve
Schedule a visit with us today!
Oral Hygiene
It may sound cliché, but oral hygiene – regular brushing, flossing, and visits with your dentist – really is the most important factor when it comes to oral health. Most oral health problems like tooth decay and gum disease can be prevented with a diligent oral homecare routine and regular professional cleanings at Veranda Dentistry.Here are some hygiene tips straight from your oral healthcare authorities at Veranda Dentistry on how to keep your smile clean and healthy between checkups:
At Veranda Dentistry, we have one of the best hygiene teams in Iowa. They are incredibly gentle to make sure you don't leave with sore gums and negative feelings about the dentist. They are also impressively thorough to make sure your mouth is in tip top shape.
Brush at least twice daily
Ideally before eating or drinking. We recommend an electric toothbrush like Sonicare® for the most effective cleaning power. Brush for at least two minutes, focusing energy on and around each individual tooth on all sides. Brush thoroughly along the gum line, where most plaque settles. Don't brush too hard as this can damage enamel and gum tissue. Don't forget to brush the tongue to remove bacteria and prevent bad breath.
Floss nightly before bed
Daily flossing is important in removing hard to reach plaque between teeth that brushing alone cannot. Flossing is also important for periodontal health in eliminating the plaque along the gum line that can harden into tartar and cause gum disease. Loop the floss gently between and around each tooth and just below the gum line. Release a new section of floss for each tooth to ensure you are not just moving plaque between teeth.
Rinse with mouthwash
Mouthwash gives you an added boost of plaque and bacteria fighting power, and can help prevent decay and gum disease. Rinse with mouthwash at night after you brush and floss for the cleanest mouth in Iowa.
Rinse with water
When brushing and flossing is not available after eating or drinking, rinsing with water can help remove plaque and bacteria that would otherwise be allowed to sit for hours on your teeth. Be sure to spit out the water, don't swallow it.
Visit your dentist regularly
We have the tools and the techniques at Veranda Dentistry to remove hard to reach plaque or tartar you may have left behind.
Exams & Screenings
You may not realize your regular six month checkups are for more than just cleanings and catching up with your hygienist and favorite dentist. Your regular checkups also include comprehensive exams and screenings to make sure we catch any potential problems before they become serious. Your Pleasant Hill and Johnston dentist is always on the lookout (and you should be too) for any changes or abnormalities in your mouth that may be potential signs of a problem. Early detection of disease and decay are essential for the most successful treatment and recovery.
Our advanced technology allows us to detect disease and decay earlier than ever before. Intraoral cameras give us a better view of the surfaces of your mouth, and our laser cavity detection technology allows us to see cavities and areas of decay before they become visible to the naked eye. We also perform regular periodontal exams to check for gum health, looking for signs of gum disease and gum recession.
Oral Cancer Screenings
One of our most important jobs as your oral healthcare professionals is to perform regular oral cancer screenings to ensure early detection and the best chance for survival and recovery. Because you generally only see your regular doctor when a problem comes up, your dentist is in a unique position – inside your mouth – to screen you for oral cancer on a regular, twice yearly basis. Some of the things we look for and things you should be on the lookout for at home include (can occur anywhere inside the mouth including the lips, cheeks, tongue, gums, and throat):
Sores, swelling, lumps or thick patches
Red or white lesions
Feeling of lump or something stuck in throat
Numbness, pain or tenderness
Pain in the ear without loss of hearing
Trouble moving jaw or tongue, swallowing or speaking
Loose teeth with no apparent dental problem
Lingering sore throat or hoarseness
Oral cancer is unfortunately on the rise in the United States – one American dies every hour. There are certain lifestyle habits and risk factors that put you at a higher risk for developing oral cancer, although 25% of oral cancer patients have no risk factors.
Risk factors for oral cancer include
Men are 2x more likely to develop oral cancer
Smoking or chewing tobacco
Alcohol use
HPV
Age
Poor diet
Sun exposure
Oral cancer screenings save lives. Be sure to visit your Des Moines dentist regularly for checkups and screenings.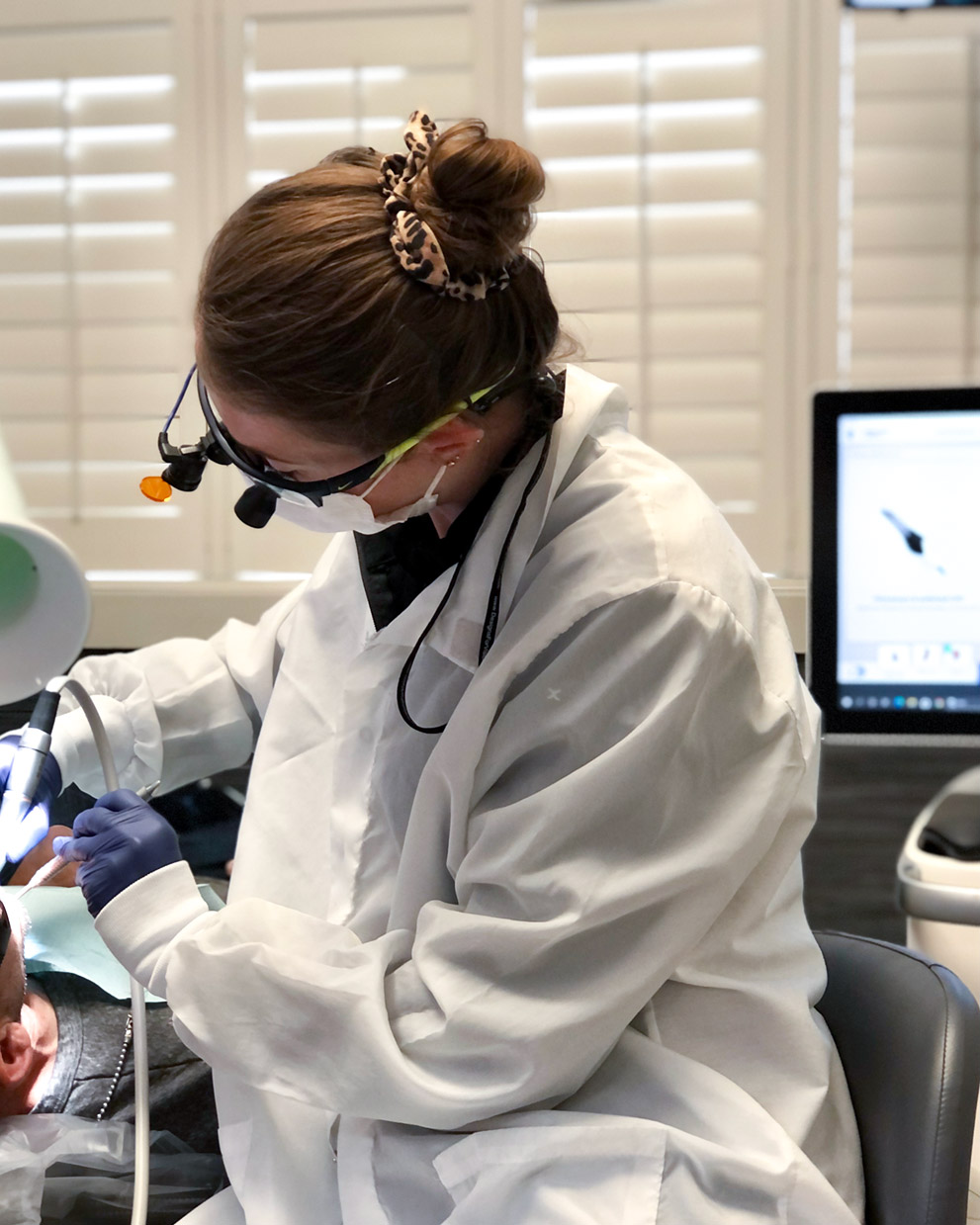 Tooth-Colored Fillings
Fillings are probably the most common dental treatment, aside from regular teeth cleanings. If you still have your natural teeth, chances are you probably have a filling or two in there. They may even be old school metal fillings from the dark days of dentistry's past. Metal fillings often contain trace amounts of mercury that can be toxic to the human body, and they are unstable with changes in temperature, causing them to expand and contract and even crack, leaving room for bacteria and decay to penetrate once again.
Thankfully, today, with advances in modern materials science and technology, we are able to fill cavities and stop decay with a more durable tooth colored resin that blends in seamlessly with your natural teeth. Tooth colored fillings can be custom made to match your exact shade, so all anyone will see when you open your mouth is your natural smile. Tooth colored fillings are more durable than metal and better withstand the forces in your mouth, as well as changes in temperature.
Laser cavity detection technology allows us to illuminate the smallest of cavities and areas of decay before they become visible to the naked eye. This allows us to fill cavities while they are still very small, conserving more of your healthy tooth structure for as long as possible.
Gum Disease
Do your gums bleed easily during regular brushing and flossing? Do you have chronic bad breath even though you brush often? Have your gums started to recede, or do your teeth appear longer than before? Nearly 75% of the American adult population suffers from some form of gum disease, and you may be one of them without even realizing it.
Left untreated, gum disease can not only cause tooth loss, but can significantly increase your risk for serious systemic diseases like heart disease, stroke and diabetes. The good news is, the dentists at Veranda Dentistry are experienced in providing periodontal therapy, or gum disease treatment in Pleasant Hill and Johnston to help our patients get their gum disease under control. Our hygienists are highly trained in performing periodontal cleanings, scaling and root planing, as well as diode laser treatment to reduce and treat periodontal infection. The foundation of a healthy smile is healthy gums. Keep your gums healthy with the help of our team at Veranda Dentistry.
Contact Us
If you have any questions about general dentistry, or would like to schedule a visit with your Des Moines dentists, Dr. Chad Johnson at Veranda Dentistry, give us a call today at (515) 650-5531 or request an appointment online! Serving Pleasant Hill, Des Moines, Johnston, Bondurant, Runnells, Mitchellville, Colfax, Prairie City, and all of Polk County, IA.
SCHEDULE NOW