Technology
At Veranda Dentistry, we take pride in our dedication to continuing education, and our investment in the latest technology.
For our patients, better technology means:
Fewer appointments
Less time in the dental chair
Less invasive techniques
Improved comfort
Less anxiety
Earlier detection of disease & decay
Better diagnosis & treatment planning
More natural looking restorations
Longer lasting results
Improved oral health
Our patients deserve the best.
Schedule a visit today!
3D Imaging
You probably remember having impressions taken at some point in your life, right? And you probably remember it being rather unpleasant, sitting with all of that nasty goop in your mouth. Thankfully, today, our Galileos CBCT 3D imaging technology allows us to take digital impressions that make for a much better patient experience, and higher level of precision accuracy that gives us 3D, 360° digital images for better diagnosis and treatment planning.
CariFree®
If you are a patient who tries hard to maintain optimum oral hygiene at home, and your regular visits with your Pleasant Hill and Johnston dentist, but still struggles with cavities and tooth decay, we may have a solution for you. CariFree® offers a wonderful line of products that help reduce bacteria and acidity in the mouth and bring pH back into balance to reduce caries formation and prevent decay and cavities.

Digital X-rays
Digital x-rays use less radiation than traditional x-rays, so they are generally much safer for patients and for technicians. They are also much more convenient as they can be taken in a matter of moments and viewed alongside your doctor right from the dental chair. This gives patients better insight into their state of oral health and allows them to take a more active role in their oral health decisions.
Intraoral Camera
In the past, and in many dental offices still today, the only way to get a good look at the surfaces of your mouth was through the magic of sight with the help of a tiny dental mirror. Today, intraoral cameras give us a whole new dimension of insight into the nooks and crannies of your mouth. Intraoral cameras give us high resolution digital images in real time for earlier diagnosis of disease and decay and better treatment planning.
Laser Cavity Detection
Similar to the intraoral camera, the only way we used to be able to detect cavities was when they became visible to the naked eye. Today with the help of our DIAGNOdent laser technology we are able to safely illuminate areas of decay before they become visible. This allows us to treat decay while it's still very small, conserving more of your natural healthy teeth for longer.
Laser Dentistry
Laser dentistry is one of the greatest modern advances in dental technology. CO2 and diode laser technology allows us to perform many treatments without the need for scalpels and sutures. Lasers are more conservative than traditional methods, preserving more healthy tissue and cleanly sealing the area without invasive cutting and sewing. This allows for optimum patient comfort, faster recovery and better results. Laser dentistry is a favorite for our patients with dental anxiety.
LANAP
(Laser Assisted New Attachment Procedure)
Almost half of adults older than 30 have some form of gum disease, a very common periodontal condition. One of the most effective treatments is called LANAP (Laser Assisted New Attachment Procedure), which focuses on restoring damage to the gums around natural teeth. Because this procedure only involves a laser, it requires no incisions or sutures, which guarantees a more comfortable treatment with a quicker recovery. LANAP also promotes new healthy tissue growth, free of bacteria and disease.
LAPIP
(Laser Assisted Peri-Implantitis Protocol)
For patients whose dental implants are failing, we also offer LAPIP (Laser Assisted Peri-Implantitis Protocol). Like LANAP, the LAPIP procedure involves a minimally invasive procedure using a laser around inflamed soft tissue surrounding dental implants. Using this laser technology, infection in and around the dental implant is eliminated and soft tissue and bone are encouraged to regenerate. LAPIP is quick and comfortable and guarantees a healthier smile and a secure foundation.
CEREC® Same Day Restorations
In the past, restorations would require multiple office visits, temporaries, messy impressions, and multiple injections. Today, with the help of CEREC® milling technology, we are able to take an entire laboratory and a several week process and shrink it down into a single piece of chairside equipment. With CEREC® we can digitally design, fabricate and place restorations like crowns, bridges and veneers in a single visit!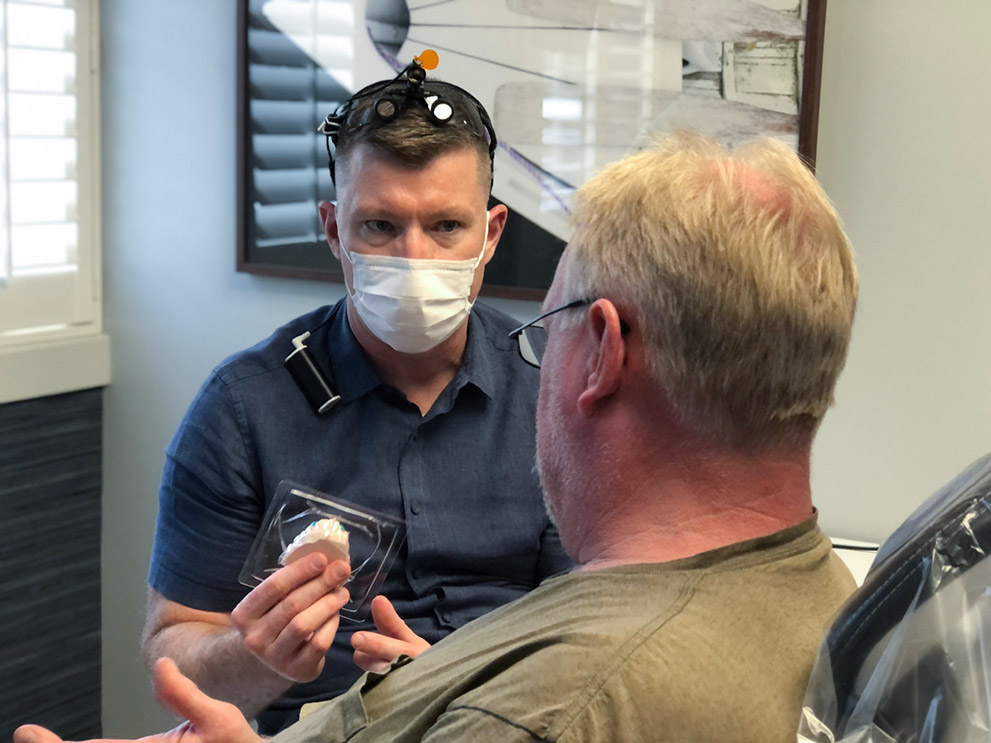 Painless Injections
Our patients love our painless injection technology, especially those with a fear of injections. Painless injections use digital technology and small pulsing vibrations to block the nerve receptors to the brain, allowing us to administer injections virtually painlessly for improved patient experience and ultimate comfort.
Contact Us
If you have any questions about our technology, or would like to schedule a visit with your Des Moines dentists, Dr. Chad Johnson at Veranda Dentistry, give us a call today at (515) 650-5531 or request an appointment online!
SCHEDULE NOW